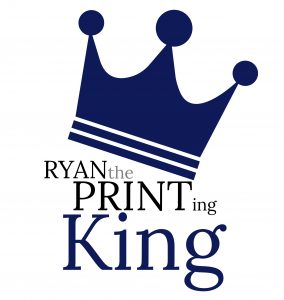 What Are Cookies?
Cookies are small text files that are stored on your computer, tablet or mobile phone when you visit a website. They allow websites to remember user preferences when you return to them. Cookies are also used to help websites to understand how users move around their pages so they can improve the user experience.
How does Ryan The Printing King use cookies?
We use cookies that are essential in order to enable the website to provide services you have asked for such as keeping track of the items you have added to your basket or identifying when you have logged in.
We also use cookies to enhance the functionality of the website by storing your preferences. They enable us to store products in your basket between visits, remember the products that you have previously viewed and help us to find relevant product recommendations for you. We also use cookies so we can take and analyse visitor information to improve your shopping experience.
To order products from this website you need to have cookies enabled. If you don't wish to enable cookies, you will still be able to browse around the site but the functionality that allows you to add products to the basket, register for an account or access an existing account will be unavailable. If you'd prefer to restrict or delete cookies from Ryan The Printing King or any other website, you can use your browser to do this. Each browser is different, so check the 'Help' menu of your particular browser to learn how to change your cookie preferences.
How to delete your browser cookies
Internet Explorer
Select Tools, Internet Options and on the small window you will see the Delete button. Clicking this will bring up the next window.
Tick the options relevant and then Delete. On the previous window from step 1 you can then click OK to apply and close.
You can set your browser to delete history and cookies every time you close your browser by ticking Delete browsing history on the window from step 1.
Google Chrome
Click the menu button on the right of your address bar and go to History. This will open a new tab to show your settings.
You can then click Clear browsing data.
Tick the boxes that you want to apply and then Clear browsing data to confirm.
Firefox
Select Tools and then Options to get to your settings.
Click Privacy and then remove individual cookies where it will open another window on your screen.
You can then select to delete individual cookies or all cookies on your browser.
To change your settings for your browser history and cookies, please select Use customer setting for history from the drop down box.
You can then choose your preferences for browser history and cookies by using the tick boxes and the drop down box. Click OK and your settings will save!
Safari
Open Safari if it is not already open.
Choose Safari > Preferences, and then click Privacy.
Click Details.
Select one or more website that stores cookies, and then click Remove or Remove All.
When you finish removing websites, click Done.
How to check cookies are enabled for Macs
Safari on OSX
Click on 'Safari' at the top of your browser window and select the 'Preferences' option
Click on 'Privacy', "allow from websites I visit" will be pre-selected. If you do not want to accept cookies, uncheck the box.
Mozilla and Netscape on OSX
Click on 'Mozilla' or 'Netscape' at the top of your browser window and select the 'Preferences' option
Click on 'Privacy & Security' from the left hand panel
Scroll to the 'History' section, use the drop down and select 'Use custom settings for history'
Here you can see a tick box for 'accept cookies from websites' – make sure this is selected.
Opera
Click on 'Opera' at the top of your browser window and select 'preferences'
Go to 'Privacy & Security' in the left hand panel
Scroll down to 'Cookies' and select 'Allow local data to be set'
Chrome
Click on 'Chrome' at the top of your browser window and select the 'Preferences' option
Click the 'settings' button on the top left – then ' Privacy and security' from the panel
Next click 'Content Settings' from the list
Then click 'cookies' and select 'Allow sites to save and read cookie data'
All other browsers
Please consult your documentation or online help files.
Maintaining a secure experience on the internet
We recommend that you keep your internet browsers updated at all times so regularly check for any updates available and install where applicable. Thankyou
If your not happy with any of the print quality we offer 100% money back guarantee.